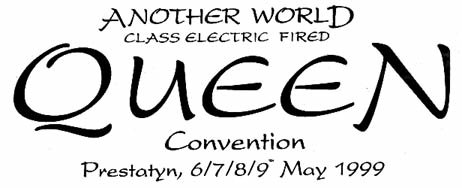 Click on the link below for pictures of the 1999 International Queen Fan Club Convention.
Held at Prestatyn Sands on 6 / 7 / 8 / 9 of May.
I'll leave all the reviews and hilarious tales of how much voddi, and beerie was consumed to those with a gift for such things.
All pictures were taken with a Digital camera and should you want a copy of any of the pictures emailing to you, please don't hesitate to contact me using ian_knight@msn.com
All this would not be possible without the excellent efforts of the Fan Club so here is a link to them :- http://www.queenworld.com/